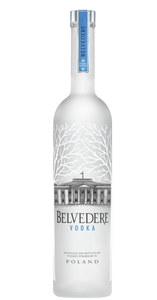 Belvedere Vodka - Vodka shop in Mykonos
Regular price
Sale price
45,00€
Tax included.
---
Winemykonos is the best place to shop vodka in Mykonos 
The party has just started in Mykonos, it's time for a drink but you don't have the perfect vodka?  No problem, let us bring you some happiness with our finest Vodka Belvedere. We will deliver it to you at any minute just make the reservation and enjoy!
Belvedere vodka delivery in Mykonos
Belvedere vodka, originally from Poland, takes its name from the "Belweder" Palace. Located in the city of Warsaw, this palace has been home to Polish presidents for the past 100 years. Moreover, the word Belvedere will have meaning for Italians, because in Italian it means "what is beautiful to see".  Belvedere vodka is traditionally distilled according to its Polish origins. This vodka offers us a sumptuous alliance between the golden rye of Dankowskie, and water of perfect purity. This vodka is distilled 4 times in the stills offering the perfect balance between character and purity.  
Nose: notes of vanilla and rye aromas

Palate: soft and round with hints of cereals.

Finish : rye notes and a creamy finish
Alcohol content: 40 %
Serving temperature: Perfect
Delivery hours:
We delivery from 9:30am to 10PM. Every day in Mykonos.
Delivery time :
We can deliver immediatly. The Delivery can take around 1H according to your location and the road.
If you want to be delivered at another time, we can deliver whenever you want.
Delivery cost :
Night rate: 50 € from 10pm to 8am
Day rate: 25 €
Free delivery for every order more than 300€
Order alcohol & snacks for delivery in Mykonos
You can order alcohol & snacks anytime by contacting us on +30 690 843 7213 we are online on whatsapp at anytime or Online
Payment options for alcohol & snacks delivery
Payment can be made via Debit & credit card, Cash on Delivery option is also available
Alcohol & snacks delivery in Mykonos
Once you have placed order we will deliver alcohol at your doorstep with in 30 mins anywhere in Mykonos.
winemykonos
customer service runs 24/7, providing our clients with the best customer service. Order alcohol delivery in Mykonos by calling us on +30 690 843 7213 we are 24H online on whatsapp. You can place your order on whatsapp Check out our Social media profile instagram for latest offers