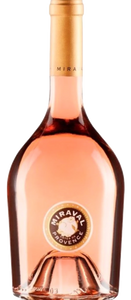 Miraval côtes de Provence - French Rose wine in Mykonos
Regular price
25,00€
Sale price
20,00€
Tax included.
---
Wine Mykonos offers you this delicious Miraval côtes de Provence, this perfect rose would be the perfect drink to refresh yourself at any time of the day. No other wine better captures joie de vivre than rosé Miraval. At your villa, by your pool, we can deliver the rose whenever you want. We recommend you drink at lunch or for your brunch but also when the sun goes down, the stars come out and let the party started. It's time to enjoy a hot summer and live your best life on the island of Mykonos. 

Miraval Rose wine delivery in Mykonos
The Miraval Rose is a blend of 50% Grenache, 30% Cinsault, 10% Syrah and 10% Rolle, it boasts floral and melon aromas, while on the palate, it's medium-bodied, plump and fleshy, with a zesty, tangerine-tinged finish.
This Crisp and precise  has a lovely mineral freshness with delicate aromas of citrus, red fruits, and white flowers.

On the palate, the terroir reveals a pretty balanced and elegant volume along with a very nice tension bringing length.

The bouquet of aromas is persistent leading to a long-lasting fruity finish with an undertone salty character.
The Miraval wine color is a gorgeous pale pink color with soft and shiny reflections.
Miraval wine delivery in Mykonos 
Food and rose wine pairing: Aperitif, seafood, salads, foie gras, green vegetables, fruit & creamy desserts. This wine is also perfect just alone, the food is not mandatory to enjoy this wine.
Alcohol content: 13%
Serving temperature:
8 to 10°C
Delivery hours:
We delivery from 9:30am to 10PM. Every day in Mykonos.
Delivery time :
We can deliver immediatly. The Delivery can take around 1H according to your location and the road.
If you want to be delivered at another time, we can deliver whenever you want.
Delivery cost :
Night rate: 50 € from 10pm to 8am
Day rate: 25 €
Free delivery for every order more than 300€
Order alcohol & snacks for delivery in Mykonos
You can order alcohol & snacks anytime by contacting us on +30 690 843 7213 we are online on whatsapp at anytime or Online
Payment options for alcohol & snacks delivery
Payment can be made via Debit & credit card, Cash on Delivery option is also available
Alcohol & snacks delivery in Mykonos
Once you have placed order we will deliver alcohol at your doorstep with in 30 mins anywhere in Mykonos.
winemykonos
customer service runs 24/7, providing our clients with the best customer service. Order alcohol delivery in Mykonos by calling us on +30 690 843 7213 we are 24H online on whatsapp. You can place your order on whatsapp Check out our Social media profile instagram for latest offers